We Act As Quick As Possible In Smithtown To Avoid More Water Damage
2/5/2020 (Permalink)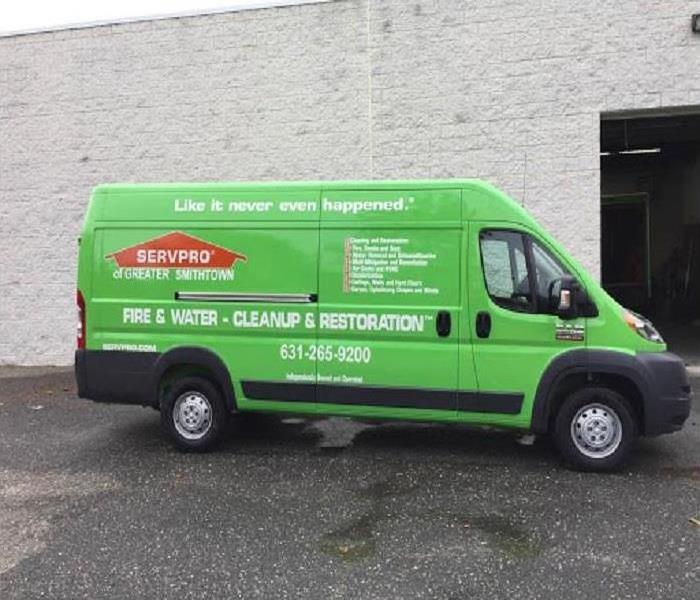 Our ProMaster Van holds all of our state of the equipment. We bring our dehumidifiers, air movers and specialty drying equipment to any size job.
Professional Grade Equipment: Why SERVPRO Makes Quick Work of Water Damage in Smithtown
When we introduce our managers and technicians to water loss mitigation and remediation products and equipment, we must help them understand why we use this particular inventory for our Smithtown customers. Although powerful equipment can make our job easier, failing to train our work crews properly could expose your home's structural components and contents to the risk of further damage from the force or intensity of the otherwise helpful tools.
Purpose of Professional Equipment and Proprietary Products
Water damage restoration in Smithtown goes more smoothly and efficiently when we match equipment and cleaning products to the specific requirements of your loss. At a minimum, following the manufacturer's instructions is essential. Professional products, including cleaners, abrasives, and disinfectants, must be mixed and applied as mandated on the label.
Equipment Inventory
It is impossible to predict precisely what equipment we might need when responding to a water damage project, which is why SERVPRO vehicles are stocked with a wide range of options. Here are some of the implements we choose among based on our training and experience.
Detection Devices
Moisture Sensors - used to establish the perimeters of the water loss and subsequent migration.
Moisture Meters - measure the moisture content of damaged structural components to set and monitor the achievement of drying goals.
Thermo-Hygrometers -- measure both temperature and relative humidity, and sometimes dewpoints. Help determine whether dehumidification equipment used contributes to an effective drying process.
Extraction Equipment
Pumps - usually gas-powered and submersible, used when water is deeper than two inches.
Truck-mounted extractors - most powerful and have their own power source. Must take care when used for restorative cleaning, especially of carpets, which can be stretched or delaminated by aggressive passes.
Portable extractors - flexible use in tight spaces and areas far from entrances. The same cautions as truck-mounted equipment when employed for pulling water from materials that can sustain damage from robust suction and pressure.
Air Movers -- create airflow to facilitate evaporation and reduce drying time. Can be used to:
Float carpets for faster drying
Push warm air into cavities and under cabinets with the directional and concentrating help of shrouds
Wall Cavity Ventilating System - replacing moist air in cavities with vents or hoses attached to blowers, often with access provided by drilled holes in walls, baseboards, or toe kicks
Venting Box Fans (Axial Fans) - used to move larger quantities of air, perfect for removing malodors or fogging agents.
Dehumidifiers
Refrigerant dehumidifiers - efficient enough to lower the relative humidity in your home to the target of 40 gpp (grams of water per pound of air).
Low grain refrigerants (LGR) -- refrigerant dehumidifiers that work below 40 gpp.
Desiccant dehumidifiers -- can lower relative and specific humidity to a much lower point and can operate at lower temperatures. We take care to avoid over-drying.
Our investment in a wide range of water damage restoration equipment is why SERVPRO of Greater Smithtown can deliver professional results. Call us at (631) 265-9200 for an evaluation and consultation.
See more about Smithtown.