Repairing Wooden Floors with Mold Damage in Smithtown Properties
7/10/2022 (Permalink)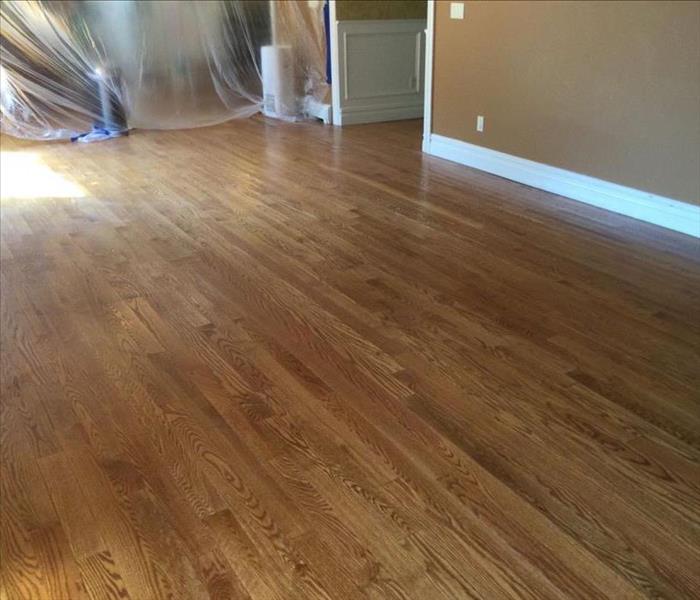 SERVPRO removes mold from hardwood floors, using poly sheeting to prevent cross-contamination, in your Smithtown residence.
Effective Mold Cleanup in Smithtown by SERVPRO
Mold growing in homes indicates that there is a problem with moisture. When moisture problems go unnoticed for a considerable period, it may lead to mold growth. It can wear away materials, such as drywall, concrete, wood, carpet, wallpaper, and ceiling tiles. It may take time for the fungi to become rampant and cause large-scale damage to your home, but if not taken care of, the damage could worsen. When you discover signs in your Smithtown home, act immediately by contacting experts.
Mold damage remediation in Smithtown involves assessing the extent of the damage and containing the problem to prevent it from advancing. Also, attending to the moisture source halts the mold spread. The process of removing mold could stir up significant amounts of spores. SERVPRO adheres to EPA safety precautions minimizing the spread of mold spores through the structure. Our teams create a containment plan by hanging plastic sheeting and establishing negative air pressure.
You can control mold growth by:
Controlling humidity levels
Promptly fixing leaky roofs, windows, and pipes
Thoroughly cleaning and drying after flooding
Ventilating laundry and cooking areas
Removing mold from wooden floor Surface
Floors may get mold damage due to groundwater seepage or a leak that is not promptly fixed and cleaned. Removing most of the colonies on the surface is possible. But, when it is ingrained, SERVPRO must determine how far the mold has spread for appropriate removal. Often hardwood flooring is supported by crawlspace foundation joists. These must also be inspected and treated with an antimicrobial if mold is discovered.
Indicators of mold on wood floor
Warped and twisted floorboards
Discoloration
Musty smell
Besides the visual confirmation, SERVPRO technicians can check underneath the boards for mold by removing a small floor section. Our teams may have to peel back the damaged floorboards, dispose of them properly, then clean, treat, and dry the subfloor before replacement.
SERVPRO of Greater Smithtown has certified Applied Microbial Remediation Technicians (AMRT) and offers effective mold damage solutions for homeowners. Call us at (631) 265-9200. We're Faster To Any Size Disaster.