Commercial Water Cleanup In Smithtown
2/25/2020 (Permalink)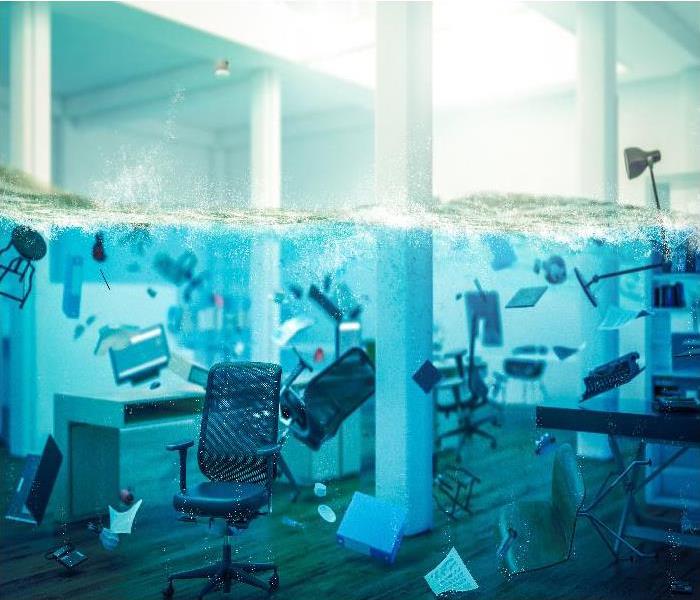 SERVPRO of Greater Smithtown at (631) 265-9200 is available 24/7 for commercial water cleanup of any size.
Commercial Water Cleanup in Smithtown Office
When commercial water damage happens, particularly on a night or a weekend, when a business is not open, the potential for a more significant loss occurs when there is not active heat or moisture detection or monitoring available.

The goal of SERVPRO is always to limit loss in the event of a situation that needs commercial water cleanup in a Smithtown office building. However, getting the business reopened and creating a healthful environment for employees is also a crucial part of the restoration services.

Finding the Water
SERVPRO techs locate all areas where water migrated that may not be readily visible such as behind baseboards or within the subflooring using state-of-the-art moisture detection equipment. This ensures that areas of moisture do not get missed during the restoration of the property.

Extraction Methods are Key
The on-site wet/dry vacs that the regular janitorial service uses do not have the pulling power of the portable pumps used by SERVPRO. The equipment the techs bring enables them to remove enough water out of carpet and flooring that it expedites the drying phase of the restoration.

Necessary Controlled Demolition Actions
When the techs determine water migrated behind walls, the removal of baseboards for extraction and drying is a common tactic. Water wicks rapidly into sheetrock, and the only way to halt the damage is to cut away the ruined portion above the waterline, so the cycle stops.

Mold Prevention
The techs have intensive training and certification in mold remediation #0060 and know the early warning signs of an infestation. They can take preventative actions to stop mold damage before it starts through the application of antimicrobial cleaning agents and sealants.

Rebuilding for Reopening
Once the restoration services complete, the techs can offer any needed reconstruction with their general contractor license #51995-H. They have the skills to replace damaged sheetrock, baseboards, any painting, or other services to return the office to its preloss state.

SERVPRO of Greater Smithtown at (631) 265-9200 is available 24/7 for commercial water cleanup of any size. The certified, experienced techs use their advanced techniques to make the loss "Like it never even happened."
For more about Smithtown click here.