How Should I Handle a Biohazard Threat in my Smithtown Business?
8/9/2020 (Permalink)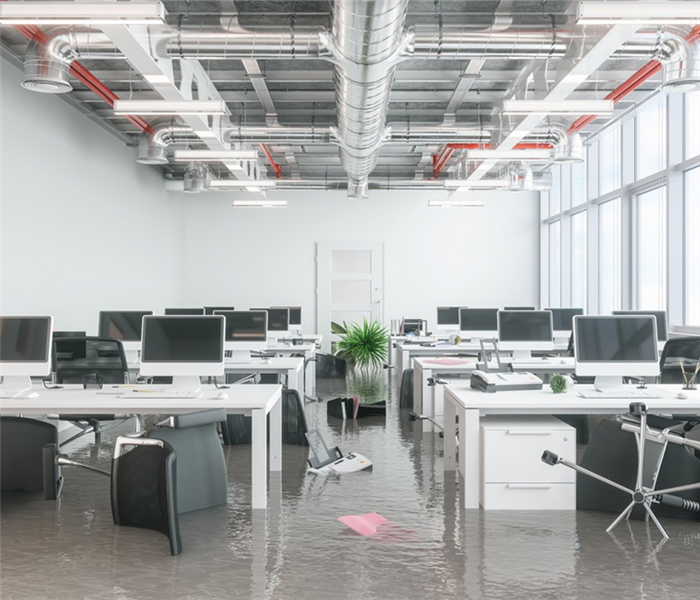 Storms and floods can appear and damage your business very quickly. Contact SERVPRO for professional flood damage mitigation.
Biohazard Threats to your Smithtown Business, Including Pathogens Brought in by Floodwaters, Should be Handled by a Professional Company
In a world where we are increasingly aware of the dangers of biohazard threats, we may forget that any water coming into our Smithtown business due to storms or floods can bring bacteria into our place. Besides engaging in the repair of roofs, windows, and openings, it would be best if you also considered how to kill microorganisms to protect your health. Only an expert team can guide you in a comprehensive restoration process that addresses water extraction, drying, and sanitizing. Household solutions are insufficient when you consider the needs of your commercial establishment.
In Smithtown, commercial flood damage is our expertise at SERVPRO. Our team is ready to take action once the emergency allows us to move safely. As soon as we arrive, we begin a thorough assessment of your restoration needs. Minimizing the time in which your business, inventory, and assets are underwater is a priority, which translates into mitigating your financial loss. Even as you explore how to file your insurance claim, you should reach out to our crew for help.
Are there biohazard materials in my business?
When flood water comes into your business, you should assume that it is laden with bacteria, debris, and microorganisms. Based on this premise, our SERVPRO technicians strive to remove any compromised items such as fabrics and carpets, as soon as possible before microbes multiply further. As we introduce pumps, air circulators, dehumidifiers, and desiccant to aid in drying your place, we also apply specialty drying solutions for your belongings, for example-
Injectidry technology to infuse warm air within your wall cavities
Freeze-drying of documents and electronics
Drying mats for subfloor materials
Once water evaporation is under control, we finish our efforts with a widespread application of antifungal solutions to eliminate microorganisms and prevent reproduction.

When an emergency happens, call SERVPRO of Greater Smithtown at (631) 265-9200 and let us be your solution. Our team works hard, so your business looks "Like it never even happened."

Click here for more information about Smithtown.