Kitchen Fires Are Among the Most Common Housefires for St. James Residents.
12/13/2020 (Permalink)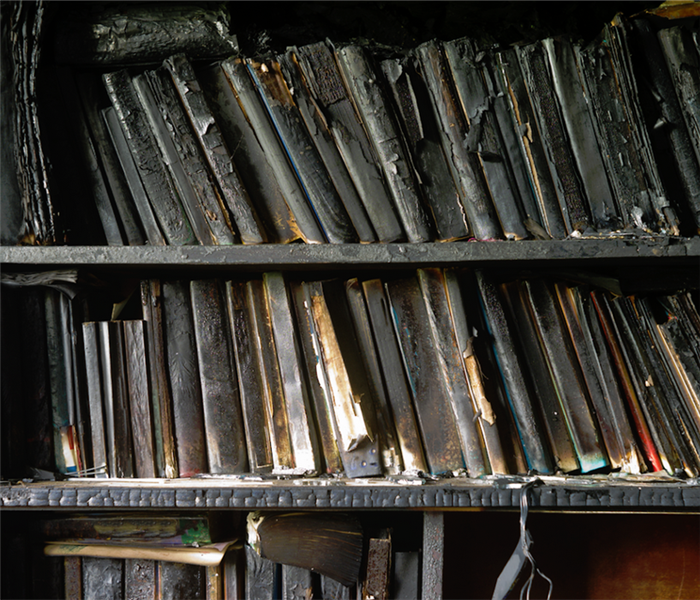 Fire damage can affect any room in your home. Contact our experienced technicians for efficient remediation service that even defeats the odors.
SERVPRO of Greater Smithtown Can Provide Adept Cleaning and Restoration to St. James Residents All Year Round.
Suffolk County is one of the four counties that make up Long Island, New York. The main township along the North Shore is Smithtown, which is home to 117,801 residents. Smithtown is the namesake of Richard Smith, an early settler in Long Island who arrived on the northern shore in the mid-seventeenth century. Local Folklore suggests that a Montauk Chieftain offered Smith as much land as he could ride around in one day on his bull. The canny Richard Smith picked the summer solstice as the longest day of the year and covered the 10 square miles that make up the township today. While recovered deed documents from the period cast doubt upon the popular myth, the township has continued to embrace the legend by erecting a bronze statue at the intersection of Middle Country Road and Route 111. There is some circumstantial evidence to support the story of Smith's bull, 'whisper,' as the presence of horses in the region was not commonplace until the mid-eighteenth century, and Richard Smith would likely have used a bull to carry out tasks usually fulfilled by horses.
Today, St. James is a residential community that attracts visitors due to its stunning period buildings, abundant kayaking opportunities, and vineyards. The Blydenburgh Park Historic District is a tribute to the area's growing contribution to the nineteenth century's agricultural revolution. Mills, homes, and farm cottages are mostly intact and among some of the oldest buildings in Long Island. Among the top places to visit are the state parks and wildlife preserves. During the winter months, many of the hiking trails in Caleb Smith State Park open up excellent cross country skiing opportunities. Several walkable trails are marked by difficulty, with blue and red paths offering around ten miles of terrain that vary from woodlands, ponds to large hills and excellent views over Long Island and the skyscrapers of Manhattan.
The Nissequogue River State Park has 521 acres of wildlife conservation and runs alongside the Nissequogue river. The state park features all-year-round kayaking and canoeing activities suitable for families and individuals looking to explore the Nissequogue river. The river park was founded in 2000 on the grounds of the Kings Park Psychiatric Center. The park offers fishing, tours, and birdwatching for many visitors each year.
The Long Island community has a growing reputation for wine-making, which ship throughout the US and the Globe. Harmony Vineyards is a perfect opportunity to enjoy the waterfront of North Shore Harbor in Smithtown with live jazz music and outdoor movie screening during the summer months. Head down to Harbor road to enjoy excellent local wines, food, and culture.
The Smithtown Center for Performing Arts is a real gem putting on performances throughout the year for residents. Many of the programs are targeted toward younger children, with shows on Shrek, Aladdin Jr, and Dr. Seuss being performed in the last year. An arts center focused on inclusivity ticketing is typically cheap, while food, drinks, and snacks are served during the intermissions.
Wining and Dining in St. James, Smithtown
The diverse demographics of St. James ensures that there is a wide variety of excellent restaurants in the local area. While most of these make use of the fresh fish caught in the bays and harbors, there is a right mix of traditional American, Spanish and Asian cuisines to sink your teeth into. The majority of restaurants and bars sit along the thoroughfare of the main street, making window shopping for food an ideal night out. If you want to book ahead, several eateries are highly recommended by the locals.
Maureen's Kitchen is something of an institution for St. James residents. Serving up delicious traditional American and Spanish brunches, this eatery takes full advantage of the nearby harbor with kippers and seafood brunches, a stalwart of the menu. Prices are typically inexpensive, while the French Toast is a local highlight. Maureen's Kitchen is situated on Terry Road just off the bypass.
H20 Seafood is another gem of the local area located on Main Street and serving up seasonal seafood to delighted guests. The night-time restaurant has a marble sushi bar for quick meals and outdoor seating and sit-down dining. Blue-fin tuna, Scottish Salmon, and the Pan Roasted chicken are among the delicacies here.
Cafe Havana on West Jericho Turnpike has a selection of Cuban-themed cocktails and seafood tapas. The choice of Paellas, Empanadas, Martini's, and Wines are a great way to introduce yourself to the local cuisine when visiting.
Smoke Residues Can Be Challenging To Remove Without Damaging Materials or Structure. SERVPRO of Greater Smithtown Can Send Experienced Professionals Within Four Hours.
When smoke comes into contact with colder surfaces, it can leave behind residues. These residues are unpleasant to look at and can often cause unpleasant odors to linger in the property. In high-pressure fires, smoke particles may penetrate the surface layers of walls and ceilings, making them even harder to clean. SERVPRO technicians have extensive training in removing stubborn soot and smoke residues. Our team has a full range of chemical cleaning products and solvents that they can use to return your home to its preloss condition. Our promise to residents of St James, Smithtown is to arrive at your property within four hours of notification of loss.
Technicians can assess the pH level of soot and smokes then activate the necessary cleaning agents to remove them without causing excessive harm to the surface materials.
Our range of oil and water-based solvents can be used to dissolve soot and smoke residues, which are then rinsed away from the wall.
Staged carpet cleaning methods allow us to tailor our response depending on the extent of damage, helping clean up your home after a fire.
Fires can be challenging to overcome without the correct selection of chemical agents and knowing when to use them. Contact SERVPRO of Greater Smithtown at (631) 265-9200.