Rely on SERVPRO to Cleanup and Make Your Damaged Smithtown Home Whole Again
2/27/2020 (Permalink)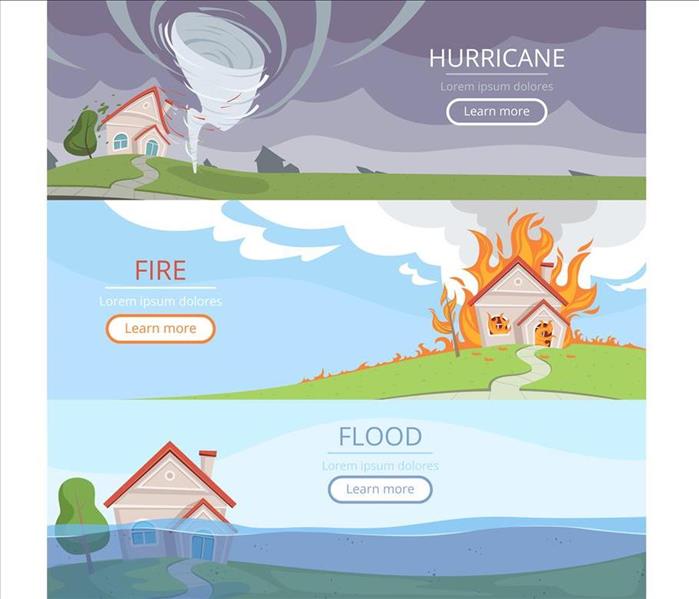 Water, Fires, Hurricanes, Tornadoes, and Just Bad Luck Visited Your Smithtown Property? SERVPRO Can Make It, "Like it never even happened."
Smithtown Residents use Our Restoration Services to Overcome Water, Fire Mold and Storm Damages
Property emergencies can take an emotional toll on a homeowner. A situation involving water, fire, storm, or mold damages can be sudden and blindside residents, which makes it tough to find a restoration service you can trust with your property or contents. We have years of award-winning experience in this industry, and we know how to take a severely damaged property back to a preloss condition, "Like it never even happened." By working closely with the chamber of commerce for both King's Park and Smithtown, we can offer residents a transparent, accountable service provider that you can trust.

Storm
When storm damage strikes your Smithtown home, it can displace contents as well as displacing the homeowner. In this interim period away from the property, you need restoration services with the experience to overcome harsh and challenging conditions. SERVPRO has extensive experience in restoring and securing properties adversely affected by weather conditions. Using an array of emergency mitigation procedures, we can stop damage and put in place protocols to get your home back the way it was.

The first few days after a significant flood or storm damage is crucial to the success rate of home restoration. Your Smithtown home may require sub-contractors to perform remodelings, rebuilding, or specialist repair of items like electronics. But before any of that restoration procedure can begin, we need to provide a safe working environment for workers. SERVPRO technicians can enter a property, perform the necessary decontamination, draining and cleaning of your home as well a securing it against unlawful entry using emergency board-ups.

If your Smithtown home is flooded, there is a strong chance of it being a category two or category three water emergency. SERVPRO can use self-priming trash pumps to remove large bodies of water with solid-waste. We can also perform comprehensive structural decontamination of the building, pack out contents for exceptional cleaning and dispose of any waste responsibly and in-line with the environmental protection agency's (EPA) standard. Should you need sub-contractors, we can arrange them on your behalf, so you only have to deal with one point of contact throughout.

Water
Water is absorbed by many of the materials in your structure. When these materials absorb moisture, they can expand or become hotbeds for microbial activity. SERVPRO conducts an extensive review of a water restoration project to understand how far water migrates and the essential equipment needed to fix primary or secondary issues.

Subfloors can be at particular risk of water migration issues because hydrostatic pressure forces water to migrate downwards onto lower levels. SERVPRO can use penetrating moisture meters to gain an accurate picture of what is happening beneath carpets. If water migration is minimal, we can conduct in-place drying using weighted extraction tools and saving time by not having to remove various pieces of furniture or fixtures. In-place drying can effectively dry both exterior carpets and the subfloor pad beneath.

Sometimes the results of a moisture meter may show significant amounts of moisture migration in your Smithtown home. In these situations, SERVPRO technicians can remove carpets altogether as well as the carpet pad. Pads usually break apart easily with an introduction to moisture, so the most efficient solution is to dispose of them. Using rapid-air movers, we can dry the affected subfloor before replacing new pads and carpets to return your home to a preloss condition.

Fire

Many of the materials in your Smithtown home are combustible, and, under the influence of fire, they can release numerous chemicals, including carbon into the home environment. Some of these chemicals, such as carbon monoxide, can be fatal to humans, which is why you should always wait to receive an all-clear from a fire marshall before re-entering a property after the fire. Other chemicals that release during a fire may not be harmful but can cause unpleasant odors as well as staining, which is likely to be concentrated on walls and ceilings but also upholstery and furnishings.

Homeowners with fire damage in their Smithtown home need to be careful when approaching fire restoration. Different types of smoke residues require different cleaning methods and products. Some soils may even respond negatively to the introduction of moisture, and you can risk causing further, or even permanent damage. SERVPRO restoration services are available to provide meticulous content and necessary cleaning to your property.

Our restoration services include specialist upholstery and fabric cleaning technicians (UFT.) Depending on the scope of the project, SERVPRO may decide to clean materials onsite or at a content cleaning facility off-site. Smithtown residents can trust us with valuable upholstery because we always pre-test surfaces before carrying out any cleaning action. Some fabrics and dyes may bleed or discolor in the presence of specific cleaning solutions. By conducting pre-tests on smaller controlled areas, we can ensure that our restoration services do not cause unnecessary harm.

Mold

Microbial infestations can buildup over time, and often the noticeable signs of mold damage in your Smithtown home only appear after months of infestation. Spotting these signs can be as simple as noticing a persistent odor in some areas of the home. Many companies advocate for laboratory testing; however, this can be both expensive and time-consuming. Our approach at SERVPRO is that the visible signs of mold growth are enough to begin a remediation procedure.

The remediation of microbial growth is a tricky task. In the right conditions, mold can proliferate. This can present a problem for a remediation process that may take several weeks to complete effectively. SERVPRO technicians undergo an intensive applied microbial remediation technician (AMRT) with a nationally recognized independent body before carrying out microbial remediation in your home. This training allows us to ensure that our process is correct without risking causing further harm.

Uncontrolled microbial growth can affect your indoor air quality. When working on a mold growth project, our technicians wear respirators to avoid health effects from inhaling spores or other airborne particles. SERVPRO can set up air filtration devices (AFD) in the home, which are large units that work in a similar way to your air-conditioning unit- drawing air in from one side and exhausting it from another. However, rather than cooling air, an AFD passes it through several layers of high-efficiency particulate air (HEPA) filters to remove any microscopic fungi spores or microbes from the indoor environment.

Our award-winning experience working with residents and commercial restoration services is essential to overcoming mold, water, storm, or fire emergencies. Contact SERVPRO of Greater Smithtown at (631) 265- 9200 now for expert assistance.