How Can Property Owners Handle Water Damage Caused by a Leaking Water Heater?
10/20/2020 (Permalink)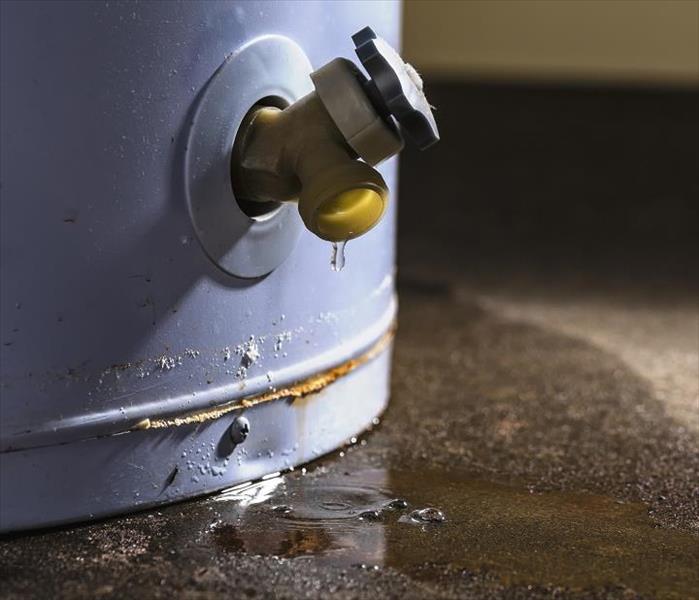 Leaking water heaters account for major water loss events every year. SERVPRO knows how to quickly restore your home.
They Should Call an Experienced Restoration Firm Like SERVPRO to Perform Water Removal in their Smithtown Homes
A water leak in your Smithtown property can cause severe structural damage in the long run if it remains unattended for an extended period. The leak might seem slow, but water can seep into various surfaces within a short period. SERVPRO professionals can help stop further damage and restore your property to its pre-damage condition.
What should property owners do after finding out about the water leak?
After a water intrusion incident, you need to contact your insurance company and file a claim. Without wasting time, contact an experienced restorer to perform water removal in your Smithtown property. Before restorers get to your property, you can help prevent additional damage by:
Turning off the heater's water supply.
Containing the water using a towel and rugs.
Switching off the main electricity supply if some parts of your home are flooded.
Removing damaged items from the affected area.
What are some of the effects of water damage?
The effects of water damage begin to occur within 48 hours. If ignored more than that, the following may occur:
Decrease the overall property value.
You may incur high restoration costs.
Mold growth may take place in hidden areas.
Wallpaper and paint chipping may also occur.
SERPVRO technicians can help minimize the chances of the above effects from occurring. Our technicians work quickly to save as much property as possible. We know how to operate water removal and drying equipment efficiently and effectively to dry structures and contents.
Can you salvage wet furniture and carpets?
SERVPRO technicians can identify salvageable items and those damaged beyond repair. We can dispose of the severely damaged contents properly. We use the latest tools and techniques to ensure effective restoration. If water has seeped into your furniture, we can use centrifugal air movers to direct air to the furniture. The equipment increases evaporation on the surface, leading to fast drying. We can use a carpet clamp on this equipment to float carpets and blow air under them.
How long does it take for odors to subside?
Construction materials are designed to absorb some level of moisture. However, when the moisture limit exceeds, the materials erode, releasing organic compounds into the air. The decaying continues until the moisture levels drop. That means that the odor can persist for an extended period. Our technicians can use ventilation box fans to generate an airflow of high velocity. The airflow not only removes odors from the structure but also dries hard to reach areas.
Conducting water removal without proper equipment and restoration skills can cause more damage to your property. Contact SERVPRO of Greater Smithtown at (631) 265-9200 to get your property to its preloss state. "Like it never even happened."